Noah Cohen
Editor In Chief
In a world of monotony and the pressures of fitting in, one Milken student has dared to express himself in a way that our community has never seen before. Chad Schoenberg '19 has caused quite a buzz on campus for his interesting and colorful fashion choices. Schoenberg can often be seen dressed in outlandish and colorful garb, ranging from a simple Mexican poncho, to farmers overalls and cap, to an entire cowboy outfit. These clothes are, of course, never against school dress code, but no student in recent Milken history has ever made such a splash with his or her outfits. The Roar sat down with the man himself to get to know a little bit more about his fashion interests. Chad showed up early to the designated meeting spot: cool, comfortable, and ready to answer. First thing of note was the rather normal outfit that he wore. When asked about it, he replied, "I am on a hiatus right now because I am getting in shape to start boxing. You can't exactly run around wearing overalls." With questions at the ready, the interview began.
Examples of some of Chad's most famous outfits.
What made you decide to start experimenting with your outfits and the way that you look?
I guess from the first one, from the poncho, I said "Oh this is a lot more fun and unique. Fits me better than just a t-shirt and shorts." 'Course I went with the duster and went even farther to the overalls. The outfits just came together with each new piece I added to them.
Do you enjoy the reactions people have to your outfits, (i.e. the pictures with or of you)?
I do enjoy when someone says "nice outfit." I say thanks. I don't like getting a lot of attention. Like all the pictures people take of me without my knowledge and consent- that's just rude and obnoxious. I do it more for me and the way I want to look than for what people want to see.
Where do you get the inspiration for a lot of your outfits?
I got my poncho for Purim. I was always a fan of western movies. So I said "ok I'll just keep wearing it." Eventually I got a cowboy hat and boots. The poncho wasn't very comfortable, so I went for the duster instead. It got a lot of attention because I wore it during the hottest days of the year. The overalls just came into play because I liked them so much.
Chad's "Poncho + Cowboy Outfit" vs. Clint Eastwood's Same Outfit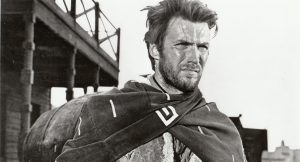 Is the purpose of wearing what many people would call abnormal or outlandish outfits to make a statement or just for the fun of it?
It's purely because I feel like they fit me. I guess really it came from growing in the sideburns. I said I wasn't going to shave and I started getting looks and comments. I think without that I wouldn't have gone with the ridiculous outfits. But really to answer the question more precisely they feel at home with me, or I feel at home with them.
Are you ever embarrassed to wear these outfits?
If I was embarrassed I wouldn't be wearing them. I don't really get embarrassed. Something I really dislike is the whole ripped jeans thing where people spend extra money to look "rugged," but the thing is everyone wears it so they're not unique anymore. I would encourage everyone to be more experimentive with their clothing. As long as they don't impede on my "style territory."
Anything else you want people to know?
Shabbat shalom. [Editor's Note: this interview was most definitely not conducted on or near the Shabbos]